Live Music Night at the Bandstand: Alex Torres & His Latin Orchestra

Alex Torres & His Latin Orchestra perform live at the Mashpee Commons bandstand! Join us on
Friday June 10th
at 6PM for a free concert for the community featuring the award-winning Alex Torres & His Latin Orchestra. 
Special guests include Mashpee Public Schools student musicians.
In case of inclement weather, this performance will be moved indoors to the Victoria Vieira Performing Arts Center.
*Poster design by Ms. Fraser's Marketing & Entrepreneurship students.
FOOD
Cousins Maine Lobster Food Truck will be parked for the show
ABOUT THE BAND
Formed October 1980 in Amsterdam, NY, this 12 piece orchestra is led by the Bronx-born bassist Alex Torres. They have been presented by hundreds of festivals, performing arts centers and events annually to perform their original blend of Afro-Caribbean rhythms such as Salsa, Merengue, Cha-cha, Bomba, Plena and Latin Jazz.
The Orchestra has been the recipient of numerous awards including the New England Cultural Arts Preservation Award, the New York State Music Achievement Award, the Schenectady League of Arts Award, The Governor´s Excellence in Arts Award, The NAACP Albany Chapter Award and 3 awards from NY Capital District Original Music Awards in 2016.
Alex Torres & His Latin Orchestra have performed for President Bill and Hillary Clinton at the New York State Democratic Convention and also for New York Governor's George Pataki and Eliot Spitzer's Inauguration. They have shared the stage and billings with such major acts as Tito Puente, Tito Puente Jr., Eddie Palmieri, Andy Montañez, Los Hermanos Moreno, Arturo Sandoval, Luis "Perico" Ortiz, Ray Barretto, Jane Burnette & The Spirits Of Havana, Larry Harlow, Jose Alberto "El Canario," Brenda K. Starr, Tito Nieves, Jerry Gónzalez & The Fort Apache Band, King Changó, Arrested Development, Branford Marsalis, The Count Basie and Woody Herman Orchestras.
The group will be conducting a two-day Arts-In-Education residency at Mashpee Middle High School, which will include instrumental workshops with student musicians, and whole-school assembly/concerts that showcase cultural diversity and explain the music, instruments and rhythms associated with Afro-Caribbean music.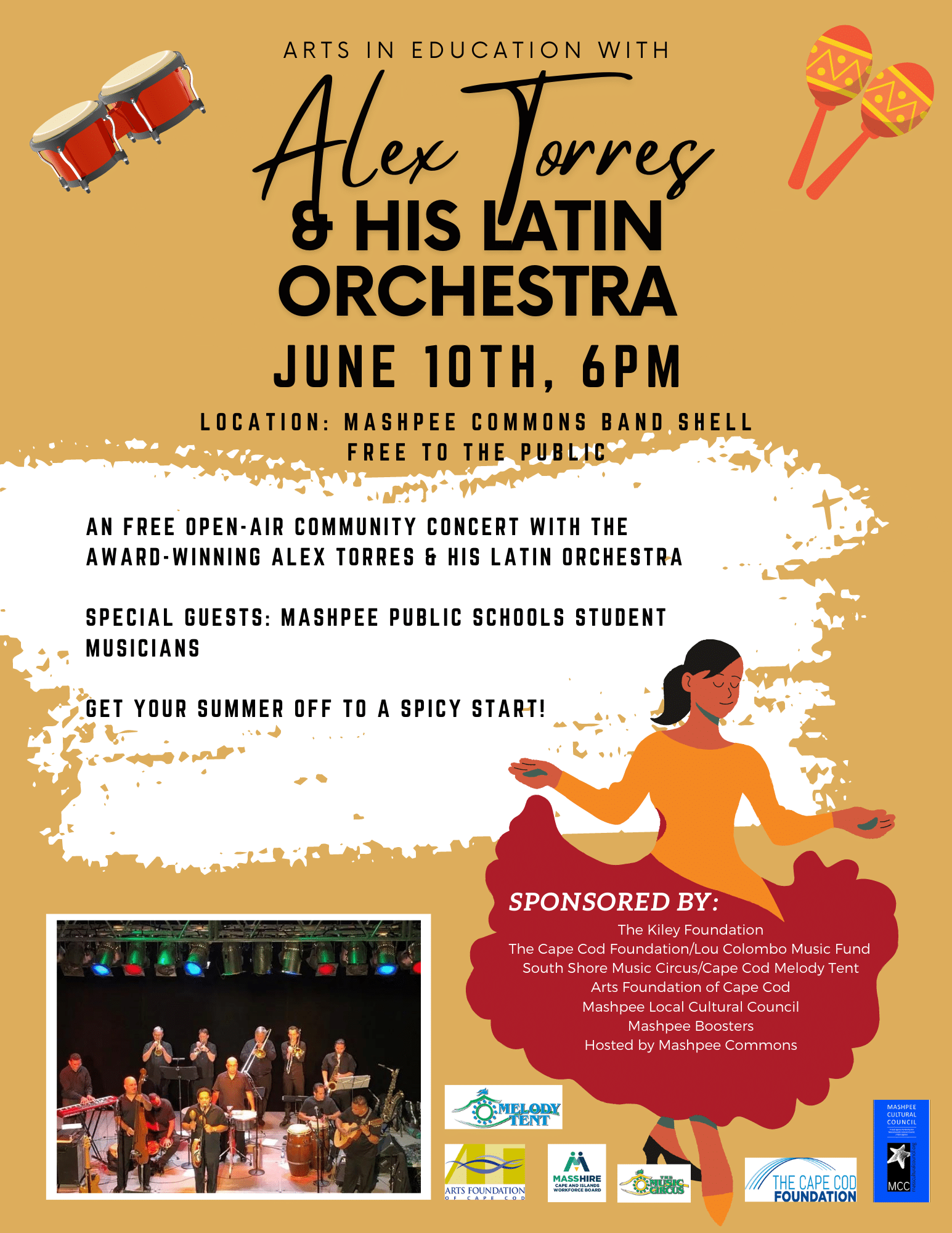 The Bandstand at Mashpee Commons
No event found!